Smart Production & Services
Smart Production refers to the ongoing interconnection of production environments and all its related components within Industry 4.0. Smaller and smaller lot sizes, a growing range of product diversity, reduced product life cycles and increasing customer requirements are key challenges companies are facing. Due to the dynamic spread of digitalization and interconnection, companies have the possibility to make use of the "new currency data" by implementing intelligent and forward-looking processes, flexible producing and securing new sources of revenue. In order to ensure global competitiveness companies, especially located in European high-wage countries, need to face this new possibilities and properly deal with the changing conditions.

Have a closer look at our reference projects!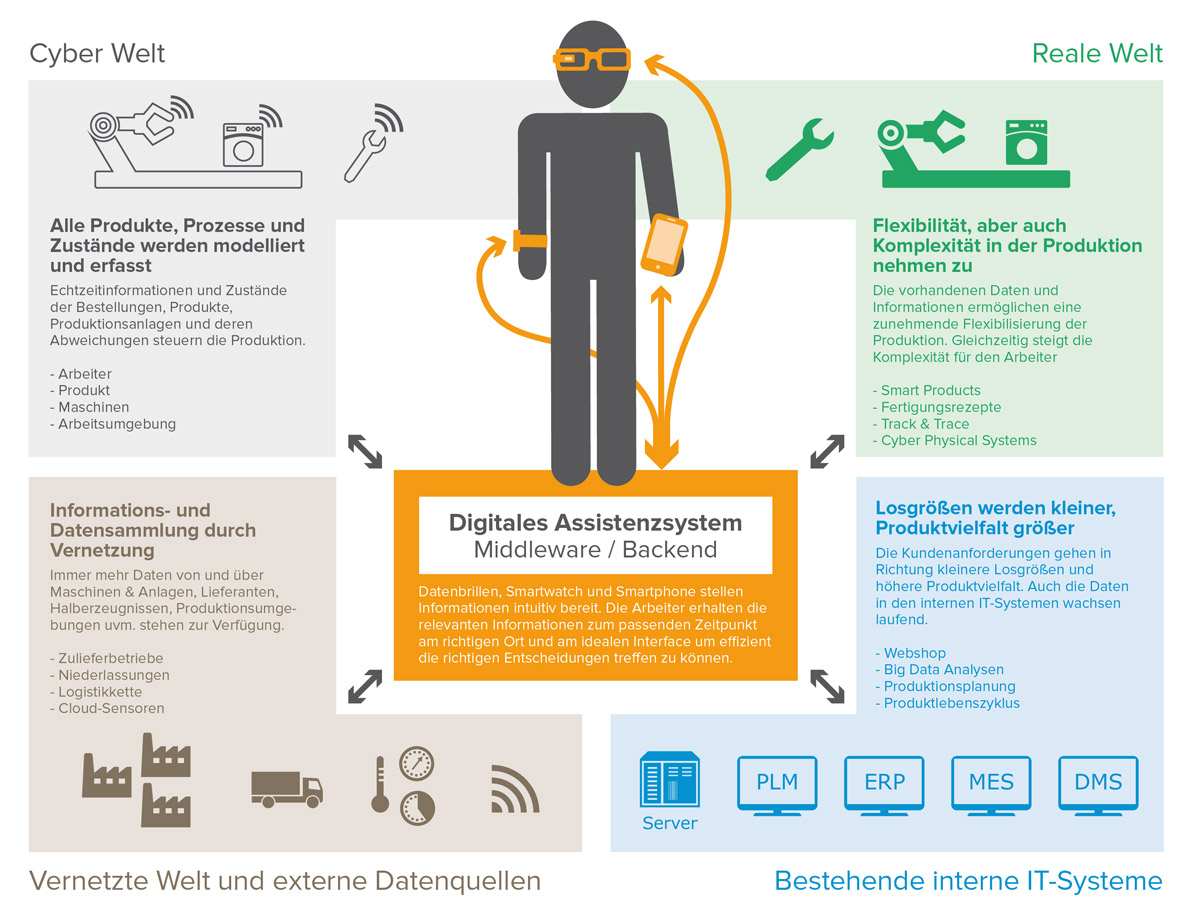 How will your company benefit from our solutions?
In semi-automated production, assembling, maintenance and service, employees play a central role. Due to the growing complexity and exploding amounts of data, people feel increasingly distracted and overwhelmed. Therefore our customized digital assistance systems focus on intuitive user interfaces and information visualization in order to actively support employees in performing their tasks. Our solutions transform data into relevant information, provide this information at the right time and place and serve as a basis of decision-making. Improved quality and efficiency are the results of target-oriented support for single employees.
Why is evolaris the right contact for you?
Through various applied research-, development and innovation projects that we have realised with our clients over the last 15 years, we gradually established competences in consultancy and development as well as methodological skills. As external think tank and driver for innovation we support your company in selecting suitable technologies as well as in developing and implementing Smart Production solutions. By methodologically including your employees we find and establish use cases which are most profitable for your company. You would like to learn more about the possibilities of digital assistance systems in the industrial sector? We are pleased to show you various application solutions based on our reference projects or inform you about your possibilities in the course of a personal meeting.